In order to make it easier and more accessible, you can now create a headline test with Thrive Headline Optimizer, directly from the WordPress view of your post/page.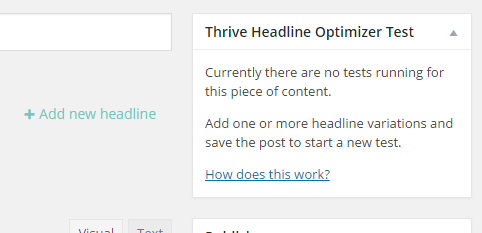 You will be presented with the options above, on all of your websites posts and pages.
​Once you finished creating your post/page, you can start adding new headline variations to it. In order to do this, you need to click on the "Add new headline" button:

Clicking on that button will prompt a text field to appear in which you can click and start typing your new headline variation:

If you are happy with the new title variation that you created, you need to hit enter and another text field will appear where you can start typing another variation for the headline.
As you can see after adding variations for your headline, next to each variation is a "Delete" button that you can use in case you want to delete a certain variation that you added: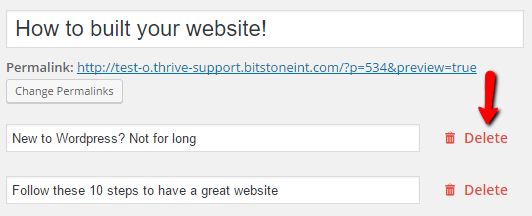 After hitting enter on the last variation that you want to add for your headline test, you can start the test by pressing the "Publish" or "Update" button of your post: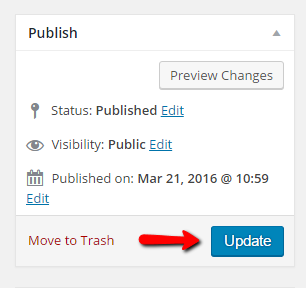 By doing that, you have started the Headline test for this particular post/page with the variations that you added: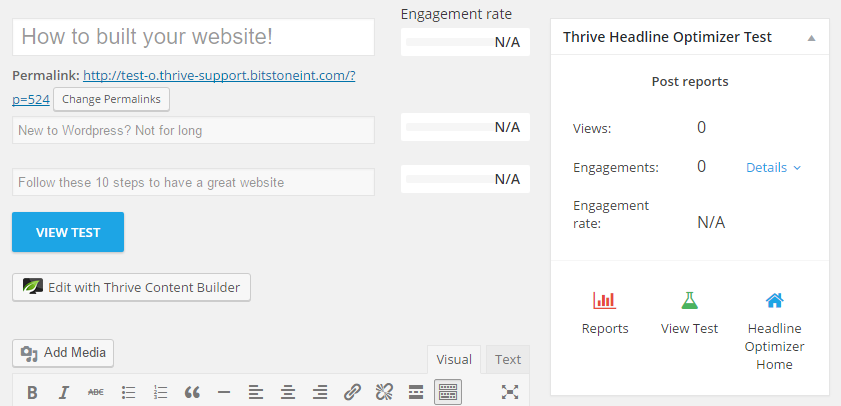 You can revisit this page and you will see that the Thrive Headline Optimizer Test box and the engagement rate will get populated with information for the headline test that you set up. For more details about the information presented, please read the "Overview of the on post/page reports of your headline test" knowledge base article.
Important! - if you start a headline test like this, the test will use the default engagement rules and the default automatic winner settings. In order to have these options customized, you will have to follow the instructions in the "How to create your first Headline Test" knowledge base article, and create a Headline Test starting from the Thrive Headline Test Dashboard.
In the list view of WordPress posts/pages, you will be able to tell which posts/pages have ongoing headline tests on them by seeing this icon next to their title: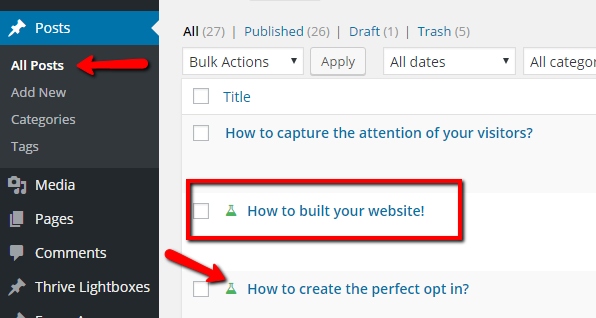 As you can see in the example above, two out of those three posts, have ongoing headline tests on them.
You can find all of your ongoing Headline Tests, by going to your Thrive Dashboard >> Thrive Headline Optimizer under the "Content with Currently Active Tests" list: